- this is what David said after devouring two loaves of homemade bread in less than 24 hours.
I have recently discovered a love for baking - cookies, biscuits, cakes... and now Bread!
I don't know why I have never thought of baking my own bread - I think I didn't really know what was involved and assumed I'd be kneading for hours. Just the fact that you buy a machine to do the hard work for you implies more hard work than I care for.
Just after Christmas I found a bread recipe on
Bright and Blithe
, thought it looked good, bookmarked it and promptly forgot about it. Then last week while searching for gelatine leaves in the stupid mini-markets of my local village (I did *not* find gelatine leaves here and was tres annoyed) I noticed an inconspicuous box right at the bottom of the shelf - active yeast. Which reminded me about that recipe. So in my basket it went and into my cupboard where it sat for a week until I remembered about it again. I think baking bread was something I had to get out of my system. I was sure that once I had tried and failed I would be able to forget it for good...
One teaspoon active yeast
One teaspoon sugar
8 fluid ounces of lukewarm water
450g unbleached all purpose flour
Two teaspoons salt
Sprinkle yeast and sugar over the warm water and leave for 5 minutes
Stir in half the flour, add salt and stir the reamining flour
Note: I used my hands for this bit but it is majorly sticky - I do all my cooking with Vin strapped to my front (he likes to put his hands on my arms and join in) and got real stuck with webbed flour fingers and a niggly child
Knead dough on a lightly floured surface (I used a hell of a lot of extra flour due to stickiness - I read some other recipes that said to use minimal extra flour but it didn't hurt the outcome) for 8-10 minutes - all the recipes said until the dough was smooth and stretchy - it is amazing how much it transforms
Note: I have never kneaded before, or even seen someone knead dough - in hindsight I could have Youtubed it but I just pounded, mashed and pulled it around a lot
Put the dough in an oiled bowl, cover with a tea-towel and leave to rise in a warm draft-free spot - I know, I was thinking it too - draft-free? what the? I don't understand it either, but I put it in the bottom of the boiler cupboard
Leave to rise for at least 90 minutes - I bathed V and put him to bed so it was more like 2 hours - it is amazing but the dough will literally double in size
Pre-heat oven to 200c/ 400f
Remove dough and punch down - I got a bit carried away with the kneading again here and somehow the doubled-dough shrank again! Gina's recipe suggest a long baguette shape, I split the dough into two and made rugby ball shaped loaves with it
Place diagonally (to ensure even cooking) on a parchment covered baking sheet - I didn't have any baking paper so I greased the sheets with a little olive oil - the loaves were lovely and brown on the bottom but D complained that the smell of burning oil gave him a headache
Leave the dough for another 20 minutes
Using a knife make some diagonal slashes in the top of your dough - I don't know why you should do this - maybe it explodes like a microwaved potato if you don't prick it?
Rub top of loaf with a small amount of water to moisten - I just realised I didn't do this bit - it didn't hurt it though
Bake in the middle of the oven for 30 minutes - until golden brown
Note: I think my oven was probably too hot when I put the loaves in - I left it for exactly 30 minutes, and while the outside was a lovely colour the inside was slightly moist - it didn't bother D but I am a bit of a perfectionist. When I try it again I will cook for longer on a slightly lower temperature (my oven is OTT with the burning)
Eat lots of lovely bread safe in the knowledge that it contains just five ingredients and a lot of love - we ate our first lot dipped in olive oil and balsamic vinegar and I planned to make soup this afternoon but D had already started attacking it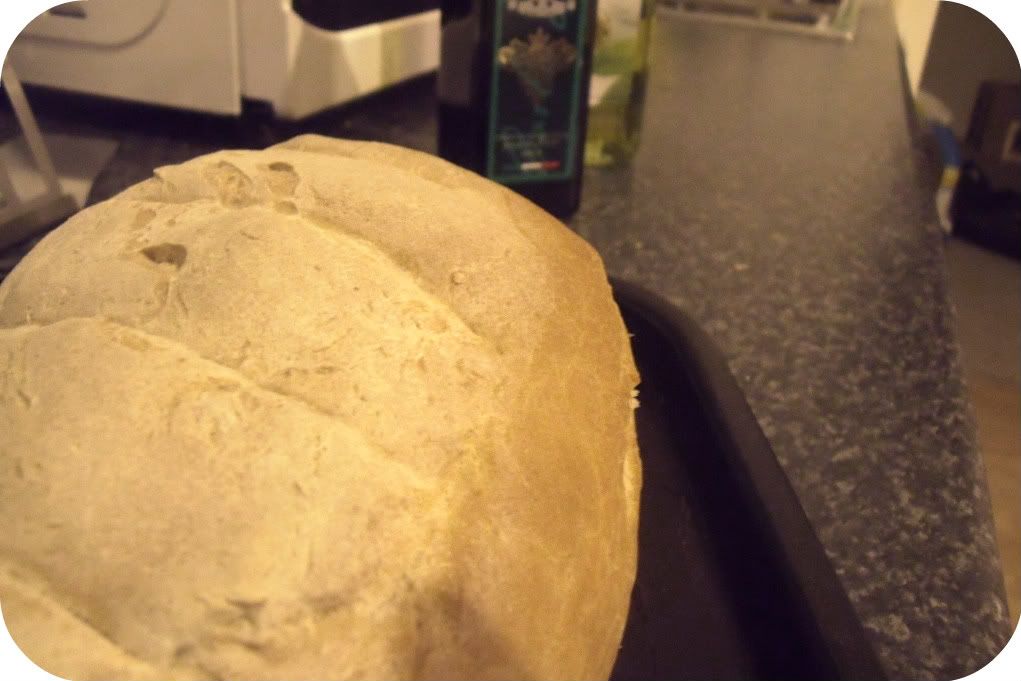 Note to self: improve on food photography skills - it was a lot tastier than this picture implies!
After finishing off the last of the bread David remarked "this is just like Jesus bread" - upon questioning I worked out he meant like the loaves and fishes from the parable and not like the transubstantiation of the Last Supper and Holy Communion - good to know
..................................................................................................