I wasn't even going to bother with posting about the England match today, but as Defoe just scored I will join the hundreds of sweaty fans who are suddenly forgetting their criticism of
the ball
,
the pitch
,
the humidity
, the
vuvuzelas
and
the manager
of just a few moments ago and instead cheering and singing - We did it once (albeit 50 years ago!) and we can do it again... and with just 60 mins left to play we'll see who is singing at the end of the match.
I made this little garland during the first match - I am not one for emblazoning my allegiances across my car, face and home normally (and to be honest my allegiances very rarely lie in British soil anyway) - I thought I better share it now because I am not sure it will still be hanging this afternoon.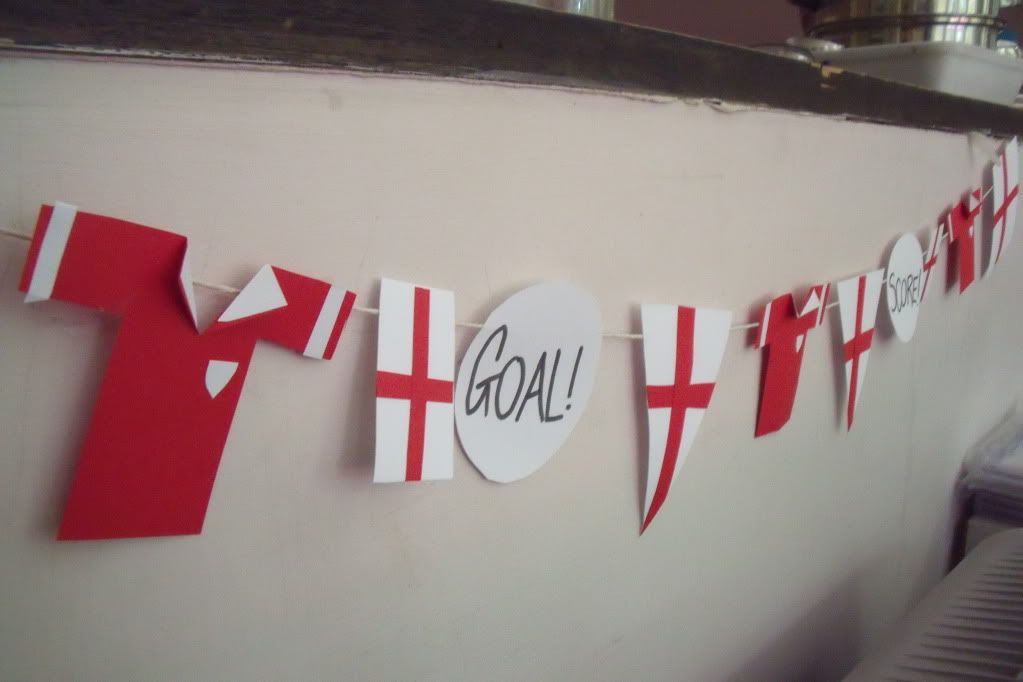 I'm thinking of replacing it with a Wimbledon themed one - I haven't picked my favourites this year so I can't get disheartened just yet - or maybe a red white and blue one for Fourth of July?
Anyway, back to football, or more importantly, food.
Ahh Slovenia, here is what
Wikipedia
unappetisingly said about your nations cuisine:
'A typical dish is "Aleluja" (Halleluyah), soup made from turnip peels and a well-known dish during fasting'
Sounds delish, no?
I checked back with Food Network who suggested lurid pink Summer Borscht, which quite frankly looks like what you throw up after one too many alcopops and is scarily unappealing. Ditt cabbage rolls.
The other offering is chilled cucumber soup which not only sounds right up my street but also refreshingly appropriate for today's sweltering heat. Happily I click away on the link, to be met with the following:
"Hmm, the page you're looking for can't be found." - I went looking for a website offering delicious Slovenian cuisine and apparently this page does not exist. The error message also mentions:
"It may have been eaten by our server." - well at least someone will get to taste some Sloven food today!