When I was writing the February chapter of the book I scribbled down a couple of Orient inspired recipes for quirky twists on Chinese New Year celebrations. I wanted to try Fortune Cookies, but they looked too fiddly and I got lazy. So I decided to make a cake instead. Green Tea Cake. Yes, that's right, green tea. In a cake. Well you like coffee cake don't you?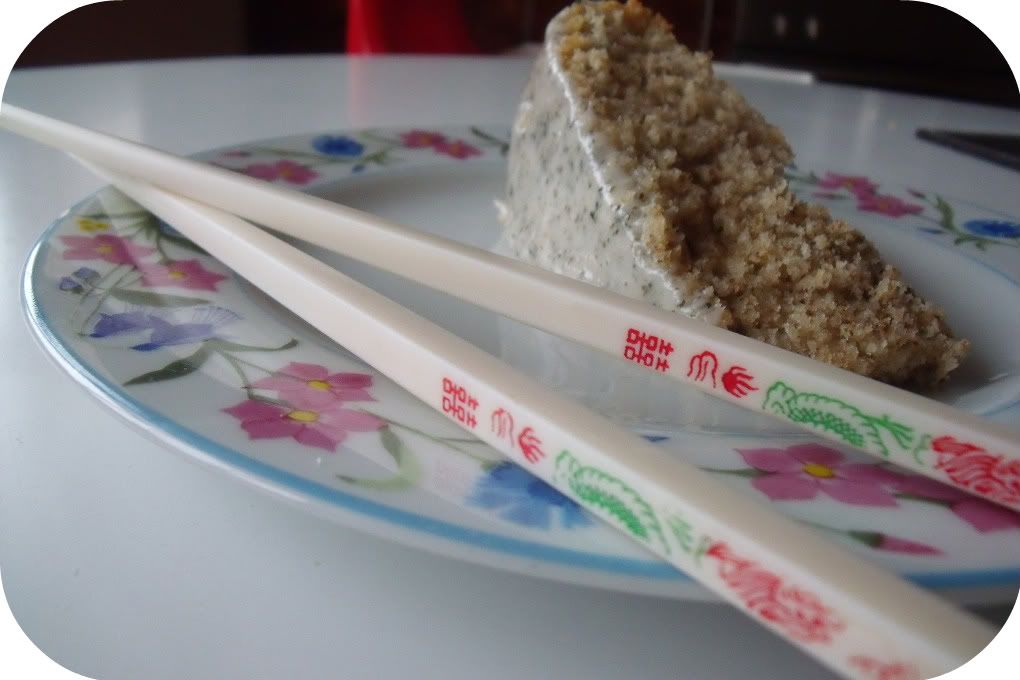 All the recipes I'd read using green tea specified something called Matcha Powder, which I'd never heard of before. Matcha is powdered tea, about the consistency of dust, or for a more appetising analogy, icing sugar. Having never heard of Matcha I had to improvise. We buy Clipper loose leaf tea, which I crushed in a mortar and pestle (you could also try breaking open a green tea-bag), then pushed it through a mini-sieve. I couldn't get exactly the right texture, so instead of a gentle green coloured mixture I got a sponge with tiny black fleckles, which I didn't mind so much. When I mixed the icing however, it looked like a bizarre salad dressing, but it tasted just right.
The tea added a lovely subtle flavour, almost refreshing with a the cream-cheese frosting I used below, but it was rich and thick and luscious with a chocolate ganache too.
p.s. I used a pound cake recipe as I was worried about the cake being too dry - but I have seen green tea used in shortbread, cupcakes and sponge sandwhiches too. The recipe is an American poundcake one I found on recipes.com and I haven't got my scales here to covert the measurements (sorry British folk!)
INGREDIENTS:
2 large eggs
1 cup flour
2/3 cup sugar
1/2 cup butter
1 tbsp Matcha (green tea powder)
1/2 tsp baking powder
Cream butter and sugar - I use my food processor for this but one day I will have a Kitchen Aid - in fact I'm considering pushing the wedding forward so I can put one on my gift register!
Gradually add beaten eggs
Sift flour, baking powder, and green tea powder together and add to the mixture
Pour into buttered pan (the recipe I read specified loaf pan, but I used a round one).
Bake at 200 for about 30-40 minutes.
I have to say this was the best sponge I think I've ever made - I used 00 flour which Nigella uses in all her recipes using plain flour - I'm not sure if it helped but it was good!
ICING:
Blend a tub of cream cheese with a ouple of tablespoons of the green tea powder - add icing sugar to taste - I used a LOT of icing sugar to make up for the weirdness of the whole cake - it was lovely
p.s. cake + chopsticks = crumbs all over the floor and very little cake in your tummy!